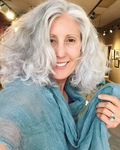 Welcome to my creative side. Over the years, I've balanced my career as an engineer with an artistic focus in one medium or another. Then in 2009, an 'Introduction to Jewelry' workshop set me on a focused path to which I am ever so grateful. I now divide my workweek between the office and my studio. Continuing to evolve within the jewelry community, I treasure the connections I make with artists and artisans along the way.
Being lost at the bench for hours or the day, forging, forming, and fabricating jewelry brings endless joy. There's a lingering feeling of accomplishment after working through technical challenges or mastering an unfamiliar technique. Sketching ideas wherever and whenever inspired keeps me connected to the creative process when life takes me away from the studio.
With enduring
passion for transforming metal sheet and wire into
objects of adornment, I work in recycled sterling silver (Argentium) and gold, employing ancient techniques such as Chasing and Repousse', Keum Boo, and Granulation but moving them in a contemporary direction. My pieces are textural and often oxidized to give them a softer aged appearance. Gemstones, pearls, or cabochons are incorporated as a focal point, to contrast with textured metal, or to introduce an element of color.
I hand fabricated all pieces in my home studio located in Westport, Massachusetts. My active lifestyle embeds me in the surrounding natural beauty, where I recharge and derive inspiration.
"I wish for as much joy in the wearing of my pieces,
as I experienced while creating them."

---
Metalsmith Workshops/Courses:
Introduction to Jewelry at Metalwerx Waltham, MA; Summer 2009
Jewelry 1 at Metalwerx Waltham, MA; Fall 2009
Metal Forming w/ Betty Helen Longhi at Metalwerx Waltham, MA; 4/2010
Spheres & Floating Stones w/ Linda Priest at School of the Museum of Fine Arts; Spring 2011
Chasing and Repousse' w/ Valentin Yotkov Tucson, AZ; 1/2012
Jewelry: Open Studio w/ Heather Guidero at The Steel Yard Providence, RI; Spring 2012
Chasing and Repousse' w/ Davide Bigazzi Menlo Park, CA; 9/2012
Jewelry: Small Business w/ Heather Guidero at The Steel Yard Providence, RI; Spring 2014
Lens Setting at Jewelry Arts Institute (JAI) New York, NY 10/2014
Jewelry I, Jewelry II, and Enameling at UMass Dartmouth, 9/2014-5/2015
Argentium w/ Cynthia Eid at Metalwerx Waltham, MA; 10/2016
Selected Courses in Fine Art and Studio Art
Bristol Community College; 2003 - 2006
School of the Museum of Fine Arts; 2008
Massachusetts College of Art and Design; 2007
Other
UMass Dartmouth, BSEE 1988
UMass Dartmouth, MSEE 1996